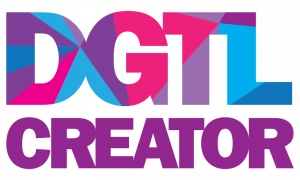 Registration
FAQ
Frequently Asked Questions
What is Digital Creator North?
Digital Creator North is a free, low-barrier program for youth and emerging artists with a focus on using digital and media arts tools to support creativity in a casual atmosphere. It is a welcoming program that offers participants the freedom to gain digital skills at their own pace, collaborate with others, and learn from experienced mentors. We are also currently working on creating a network to support communities in northern Ontario that want to create their own spaces using Digital Creator as a model. Learn more on our About Us page
What do we offer?
By offering space and equipment, our space supports interest-driven creative activities like 3D Printing, coding, graphic design, animation, videography, and digital photography. Teens can also come into work on homework, read, paint, draw, collage, or just hang out and place video games with friends!
Where can you find us?
Our new DGTL Creator North Bay space is currently operating out of the lower level of the Capitol Centre building located at 150 Main Street East, North Bay, ON, P1B 1A8
Youth are welcome to drop in on Tuesdays, Wednesdays and Thursdays between the hours of 3pm and 6pm.
How can you take part?
Just fill out the registration form above to gain access to our DGTL Creator North Bay location and to get updates on all of our upcoming programming!
Have a question that isn't listed?
Send a Message