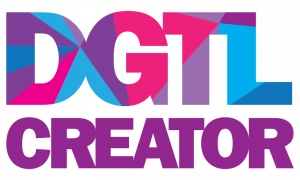 About Us
What is Digital Creator North?
Digital Creator North encourages youth and emerging artists to explore digital media with a focus on creating positive change through technology and creativity. These spaces are located in easy to access public spaces — libraries, galleries, museums and cultural centres.
The Digital Creator North Program operates as a drop-in, out-of-school, learning environment, staffed by full-time mentors, where youth develop skills in digital media using a participatory culture model. This project aims to have a positive cultural impact on Northern Ontario by increasing participation in the media arts sector in small to mid-sized communities. Digital Creator has run programming spaces in the following partnering communities — New Liskeard, Timmins, Elliot Lake, Sault Ste. Marie, Kenora and Sioux Lookout, all of which closed due to COVID-19. Our current space is located in North Bay
These spaces inspire creative experimentation, peer networking and collaboration and hands-on learning using various digital media arts disciplines. Participants can practice video production, audio recording, graphic design, digital art, animation, 3D modelling and coding/programming among other disciplines. These teen to young adult learning spaces provide a variety of programming and content to engage program-led projects, after-school drop-ins, peer-to-peer learning and encouraging participants to become active producers of digital culture. These hang-out spaces are for collaboration with friends, exploring technology, sharing ideas and finding one-on-one mentorship. Digital Creator North not only connects young people to technology, media, creative arts, mentors and institutions, but also encourages civic engagement through the digital arts.
The Digital Creator North project began as a series of consultations in 2013-2014 around the region with an aim to understand how to increase participation in media arts disciplines in Northern Ontario. In 2015, N2M2L travelled to the Digital Media and Learning conference in Los Angeles and connected with YouMedia – an initiative out of Chicago providing inner-city youth with access to digital media using the library system. Through a knowledge exchange, N2M2L developed Digital Creator North using YouMedia's research as a blueprint.
In spring 2016, N2M2L received an Ontario Trillium Fund Grow Grant to develop Digital Creator North as a three-year pilot project. An agency of the Government of Ontario, the Ontario Trillium Foundation (OTF is one of Canada's largest granting foundations. With a budget of over $136 million, OTF awards grants to some 1,000 projects every year to build healthy and vibrant Ontario communities. This Project has been graciously supported by the Ontario Trillium Foundation through both a Grow Grant and a Capital Grant.
In early March 2017, the first Digital Creator Spaces opened across the north in six partnering communities — New Liskeard, Timmins, Elliot Lake, Sault Ste. Marie, Kenora and Sioux Lookout. These spaces are located in easy to access public spaces — libraries, galleries and museums.
In 2019 the project received multi-year funding from the Canada Council for the Arts through the Digital Strategy Fund. This funding supports research pertaining to creating a framework for low-barrier media arts access.
In 2020 we launched a virtual version of Digital Creator, using the Gather.town platform. We offered online programming to youth in Northern Ontario from September 2021 to the end of April 2022. We offered over 70 events, including digital media art workshops, one-on-one tutorial sessions, hang-out sessions, game nights and escape rooms. Our sessions focussed on digital media art creation including creating music, drawing, emerging tech, book creating, animation, and interactive storytelling. The space remains as an alternative programming platform for any future Digital Creator space.
We are also currently working on a pilot network that supports communities in northern Ontario that want to create their own spaces using Digital Creator as a model.

The Near North Mobile Media Lab actively promotes media arts access for all artists, regardless of age, class, gender, sexual orientation, race or ability. We provide the tools that artists, students, and audiences in Northern Ontario need to produce, present and enjoy all forms of contemporary art.
We envision a thriving media arts community in Northern Ontario that produces innovative work, has access to contemporary presentations, and is an active participant in a national discourse by overcoming regional limitations.