DGTL Events
We are SO excited to host our first month of programming at DGTL Creator Online, and this month we'll be hanging out, running workshops, and hosting game nights in Gather.town! Gather.town is a customizable and private hangout space where you can create your own avatar, chat by video and/or voice, and choose what you want to do/where you want to go at your own pace!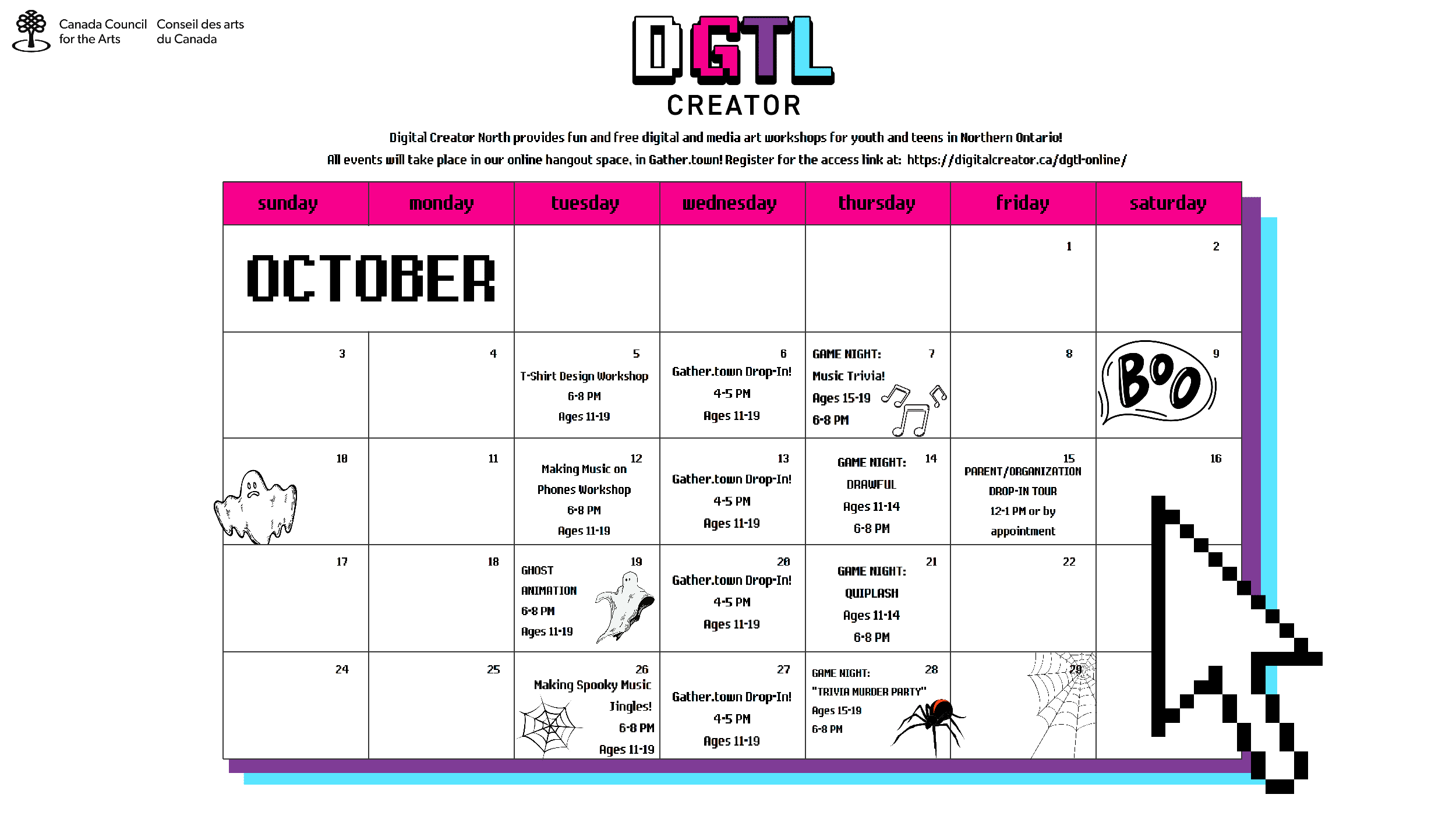 In order to join our Gather.town, just fill out the one-time DGTL Creator registration form below and we will send you the link and password to the space. Please keep in mind that this programming and space is specifically for youth and teens ages 11-19 in Northern Ontario!
In addition to our game nights and workshops, we also have weekly drop-in sessions from 4-5pm in Gather.town so you can learn a bit more about DGTL Creator and about our online space! You will still need to register to drop-in, so you can receive a password to the space.
We will also have a parent and local organization drop-in session either on October 15th from 12-1 PM, or by appointment. Email [email protected] if you have any questions, or would like to come see the online hangout space we have built! We will post the link to the space once we approach the date.
---
DGTL Registration
---
DGTL Youth Research Opportunities
Are you dreaming of an online place to meet new friends, hang out with old friends, work on personal projects, and to create cool art? Are you between 11-19 years old, and live in Northern Ontario? We are hiring Dream Jammers to imagine a cool, creative, and safe place to express their voice and you could be a part of this!
We want to see your vision of the future and are giving Dream Jammers a $25 honorarium for the session! Come and mess around online with us for an hour. We are hosting Dream Jams with 2-3 people at a time!
Email [email protected] if you are interested in taking part in one of our Dream Jams!
---
Take Our Survey!