DGTL Events
We are SO excited to be programming DGTL Creator Online, and this month we'll be hanging out, running workshops, and hosting game nights in Gather.town! Gather.town is a customizable and private hangout space where you can create your own avatar, chat by video and/or voice, and choose what you want to do/where you want to go at your own pace!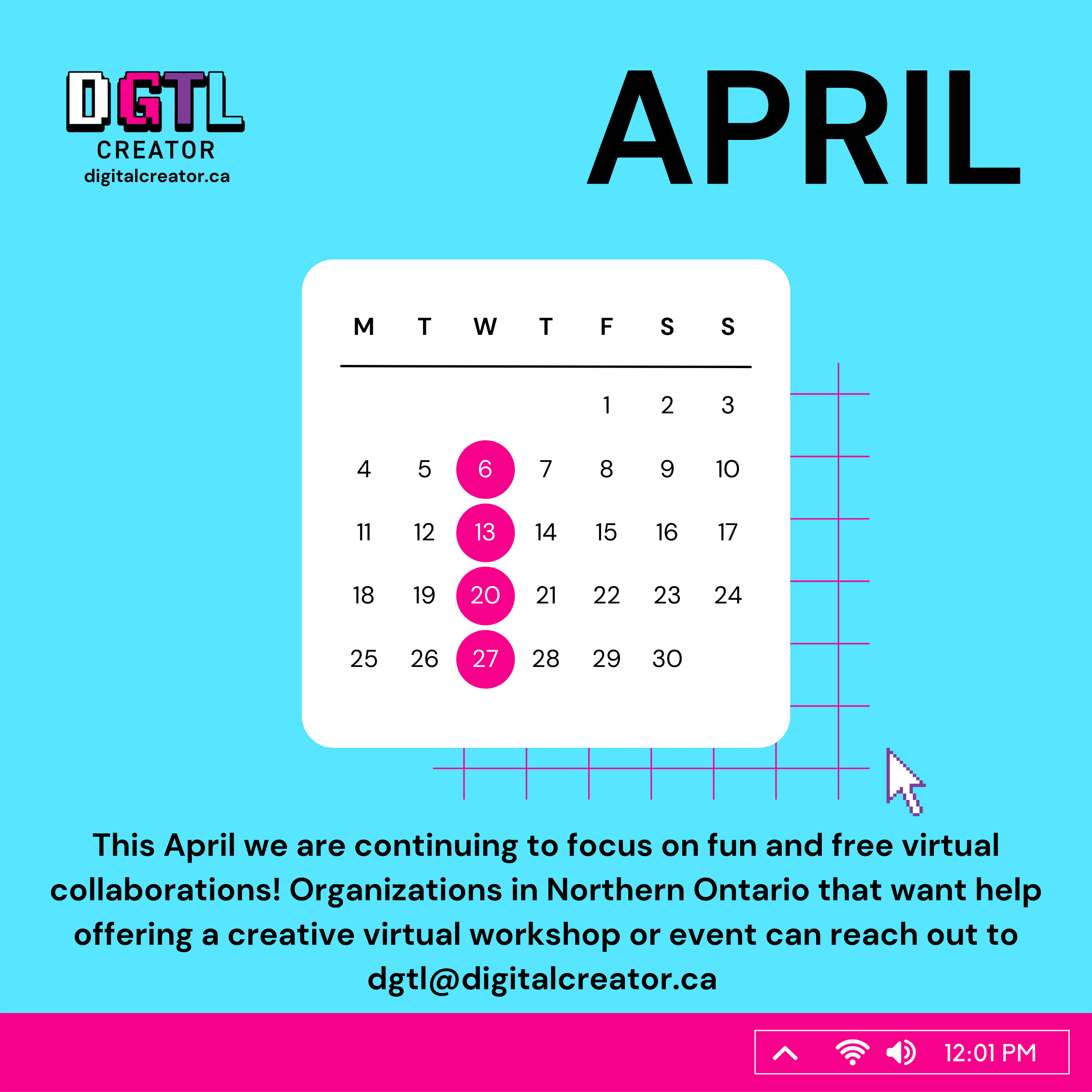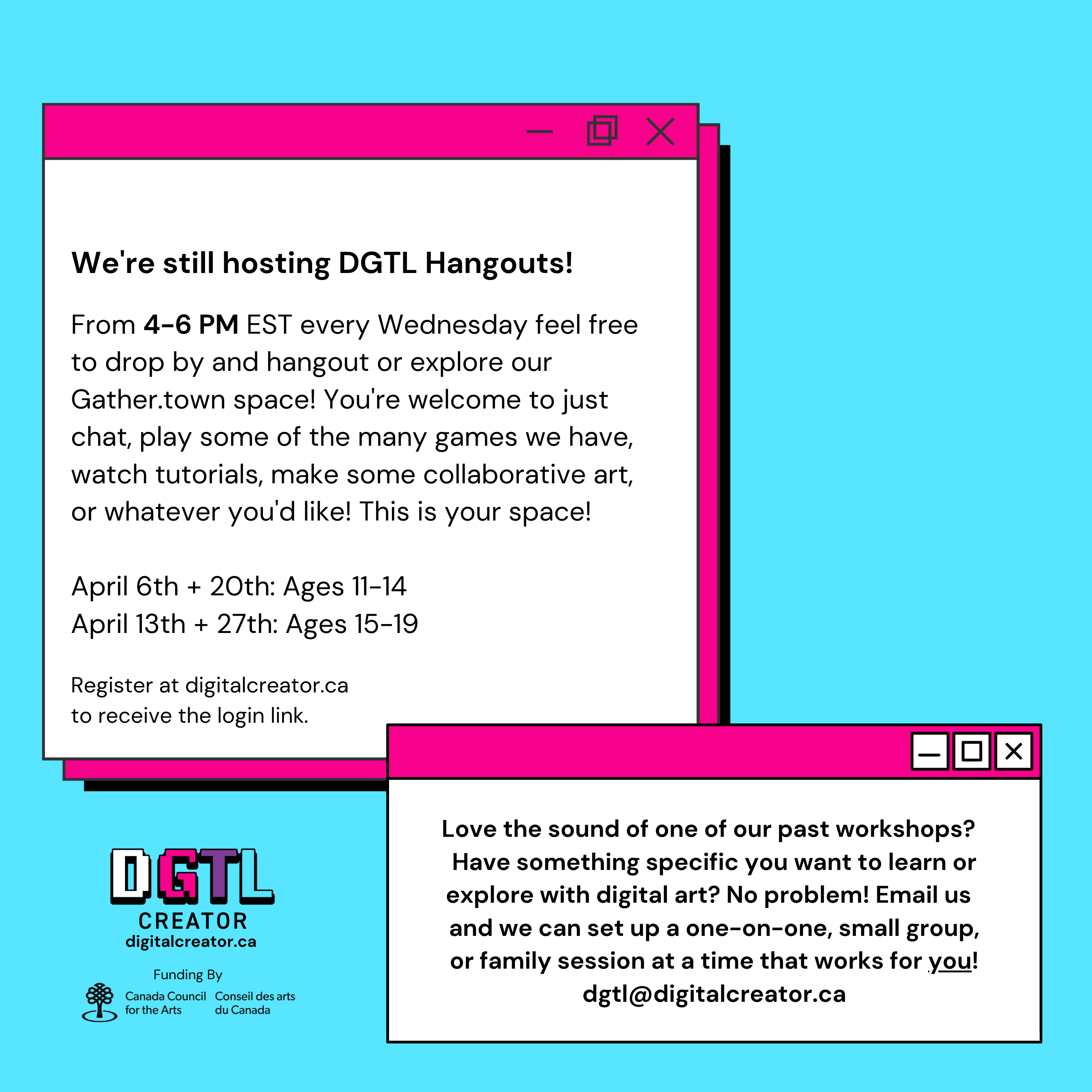 In order to join our Gather.town, just fill out the one-time DGTL Creator registration form below and we will send you everything you need to access the space.
Please keep in mind that most of our programming is designed for youth ages 11-19 in Northern Ontario!
In addition to our game nights and workshops, we also have weekly drop-in sessions from 4-6pm in Gather.town so you can learn a bit more about DGTL Creator and explore our online space! You will still need to register to drop-in, so you can get into the space. These dates are posted on our monthly calendars; check there for age-specific events and other fun things we have planned!
We are also happy to host tours for parents, and local organizations by appointment. Email 

[email protected]

 if you have any questions, or would like to come see the online hangout space we have built! 
---
DGTL Registration
---
DGTL Youth Research Opportunity
Do you love digital art/music, and want to gain more leadership experience?
Join our team as a Youth Researcher!
Overview:
Our team at DGTL Creator North has recently launched an online hangout space focused on digital/media art and music! We connect with youth using Gather.town and Discord for collaborative creativity and playing around with all things digital. 
We invite you to build and run a workshop in your field of interest! 
As a Youth Researcher, you get to work closely with our programming facilitators/artists: Tyler Cunningham, Rebecca Watson, and Heran Genene. This is an excellent opportunity to get hands-on experience with pros in the arts sector, and to build on leadership skills. We will respond  to your creative interests through one-on-one artistic chats and workshops, as well as by building community for collaboration and support.
With this creative virtual leadership position you will:
Brainstorm some workshop ideas with our team

Plan and help to run your own  workshop!

Create invitations and recruit participants (they can be your friends!)

Debrief with participants about how the event went

Tell us what you thought of the experience!
Compensation: You will be paid $300 for a total of 12 hours of work.
Does this sound like you?:
You are between the ages of 15-19 and living in Northern Ontario

You have an interest in digital/media art (some examples include: music-making, digital drawing, animation, photography, coding art, etc)

You can get reliable access to an internet connection while we are creating the workshop together (at school, a library/community center, or at home)
To Apply: 
Send us an email to [email protected] and attach either a written or short video application telling us why you want to join us, and what leadership and creative skills make you a good fit! Send us any questions you may have to either that email address or on social media! Instagram: @digitalcreatornorth, Facebook: https://www.facebook.com/digitalcreatornorth
Deadline: December 5th at 11:59 PM EST
---
Dream! Jam!
Are you dreaming of an online place to meet new friends, hang out with old friends, work on personal projects, and to create cool art? Are you between 11-19 years old, and live in Northern Ontario? We are hiring Dream Jammers to imagine a cool, creative, and safe place to express their voice and you could be a part of this!
We want to see your vision of the future and are giving Dream Jammers a $25 honorarium for the session! Come and mess around online with us for an hour. We are hosting Dream Jams with 2-3 people at a time!
Email [email protected] if you are interested in taking part in one of our Dream Jams!
---
Take Our Survey!